Over 5 years, 2400 students, 30 courses and 10,000+ hours watched Canon Masterclass
has proved that knowledge makes the difference.
It's rare to find a teacher who's as personal as Rubidium and can break down cinematic techniques as clearly as he can.

Since his workshop, I have found myself applying several skills and lighting techniques he taught me in my cinematography.

I feel more confident when I'm setting up for shots and can continually see improvement as I refine my craft.

Rubidium is a great teacher and resource, and I would strongly recommend him to anyone wanting to improve their knowledge in cinematography.

⭐⭐⭐⭐⭐

Brooke Gorsia

The Canon Masterclass by Rubidium exceeded my expectations.

One of the aspects I appreciated the most about the Canon Masterclass was its practical approach. It wasn't just a series of theoretical concepts; instead, Rubidium focused on real-life scenarios and shared valuable insights, tips, and techniques that I could immediately apply to my own projects. The course covered a wide range of topics, including camera settings, composition, lighting, audio, and post-production, ensuring a comprehensive learning experience.

The production quality of the course was top-notch, with clear audio, well-structured content, and visually appealing demonstrations.

⭐⭐⭐⭐⭐
Dmytro B
Austin TX.



I purchased the Canon Masterclass C200 years ago and found it extremely valuable.

The course is expertly designed and provided me with the necessary skills to utilize my C200 as a professional-grade camera, rather than just a camcorder.

It was definitely worth the investment. Rubidium has a genuine passion for teaching and demonstrate a deep understanding of these cameras that can save you years of wasted effort and mistakes made through trial and error.

Since joining the Unlimited plan, I've come back to the courses dozens of times and always learn something new.
An incredible investment in your filmmaking future.

⭐⭐⭐⭐⭐
Matt Krzycki

Empty space, drag to resize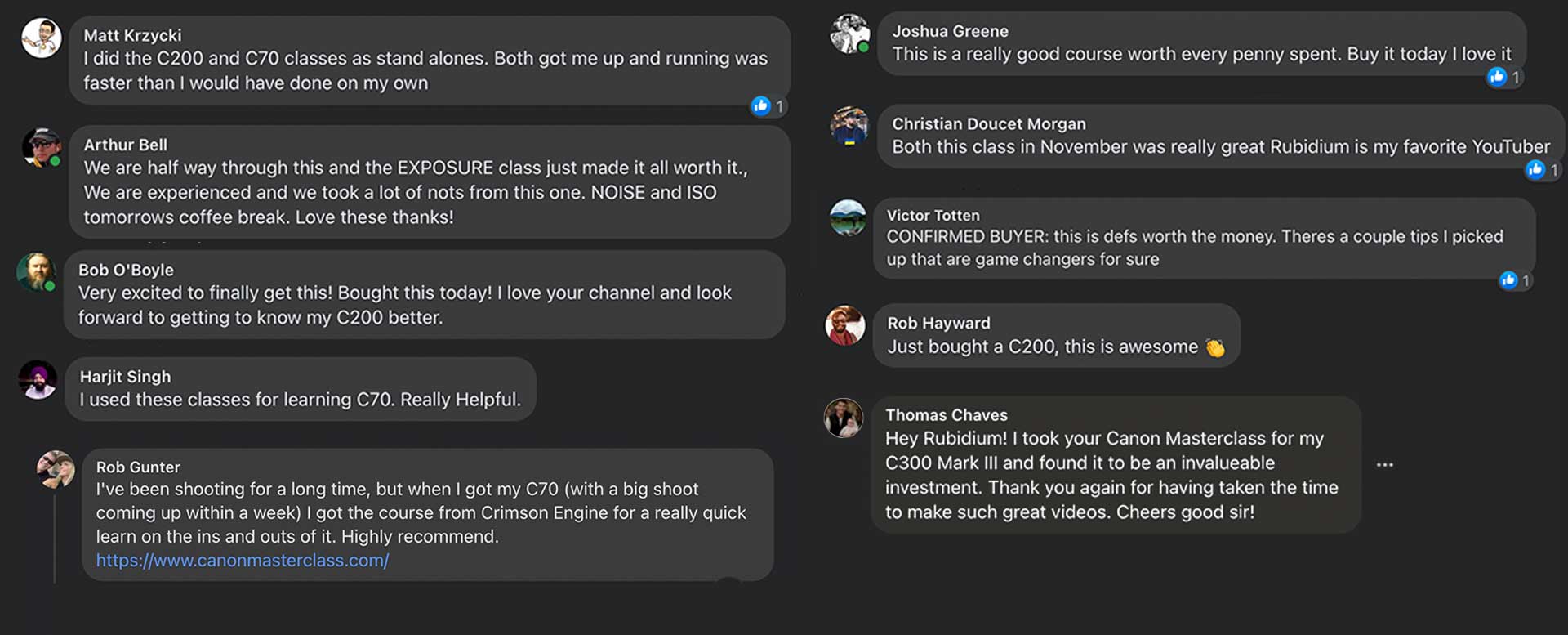 Created with